Express Checkout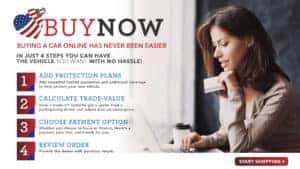 EXPRESS CHECKOUT (Buy Now) IS OUR INNOVATIVE ONLINE CAR BUYING PROCESS THAT PUTS YOU IN CONTROL.
No matter where you are – at home, in the office, or on the road – you can now choose from thousands of new and pre-owned vehicles and make your next vehicle purchase online.
Your choice. Your schedule. Your vehicle. EXPRESS CHECKOUT (Buy Now) makes the car buying process your process. Simply find your vehicle online, click Buy Now, choose the deal that works best for you, including a KBB trade-in offer, get credit approval, and select your payment terms. Finally, take delivery either at the dealership or have it delivered directly to you.