About Us: Natasha Del Barrio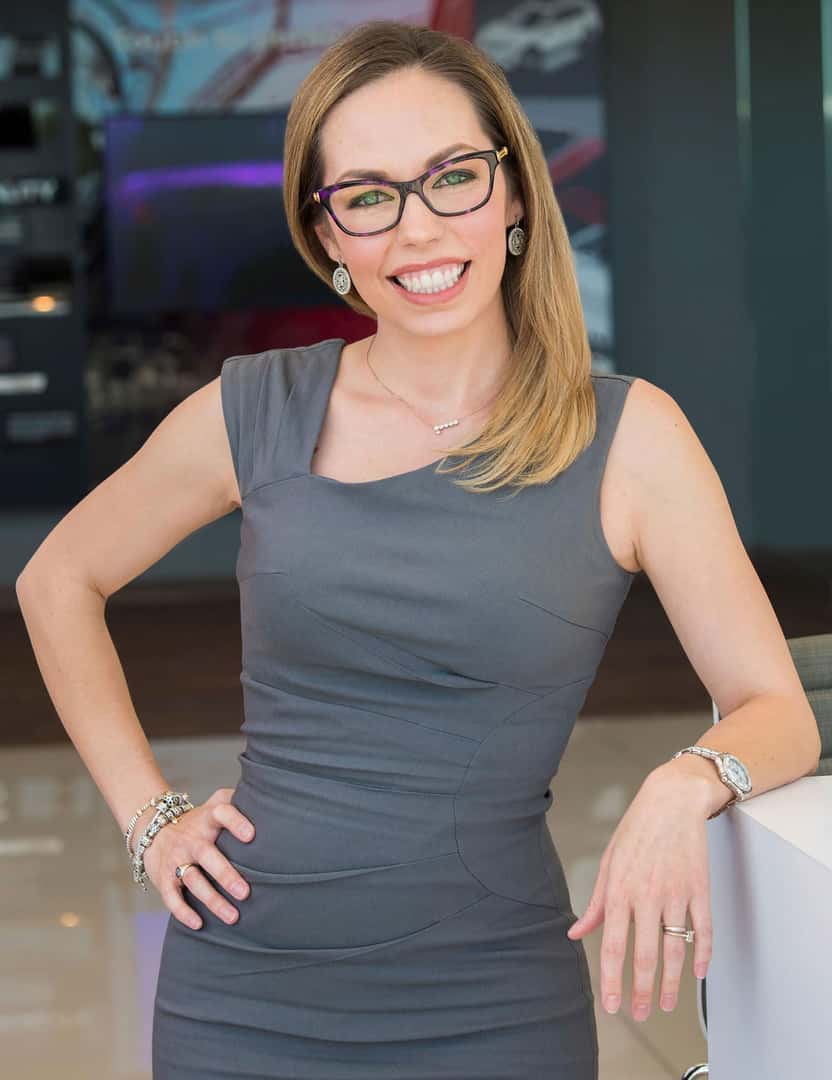 Natasha Del Barrio, Chief Executive Officer (CEO) for Bert Ogden and Fiesta Auto Group in the Rio Grande Valley Natasha Del Barrio, Chief Executive Officer (CEO) for Bert Ogden and Fiesta Auto Group in the Rio Grande Valley
This year, Natasha Del Barrio was interviewed by Jim Fitzpatrick, host of CST, the automotive television network in the U.S. Natasha is Chief Executive Officer (CEO) for Bert Ogden and Fiesta Auto Group in the Rio Grande Valley. Previous to the television interview, she had been honored in Las Vegas, Nevada, and recognized as a dynamic young leader in the dealership industry in the nation.
Natasha was part of the Automotive News class of 40 Under 40 in auto retailing. According to Automotive News, the 40 selected are making a significant impact on dealerships in the U.S.
Like many other industries, automotive retail is continuously changing, evolving from technology to customer experience and automotive service appointments. Each area of the dealership needs constant fine-tuning, as in any other business.
"There is a preset mind in people that this is a male-dominated industry, and largely it is, but it doesn't have to be that way," Natasha said. We must take into consideration that she is one of the few female executives in the nation responsible for multiple dealerships. The recognition she received is well deserved.
Natasha, 37, discussed her approach to the importance of embracing change and growing with the industry at the dealership level. If You Don't Make Waves, You'll Drown, a book by Dave Anderson, had an impact on her. She pointed out that the importance of the changing needs of today's consumer is paramount.
"I mean, we've got to change the way we do business, or we will no longer be relevant." She recognizes that there is a greater balance in an industry in transition because there is a large group of customers that still want a very traditional hands-on experience. "How do we properly balance that to meet each customer at their own pace?" The agility they are looking for is how to move forward without losing the 'personal touch' appeal for the customer.
Fitzpatrick, the host, mentioned that there have been many studies on the subject, most recently one by Cox Automotive that says about 1% of consumers today enjoy the current shopping experience at a dealership. He asked what can be done to change the process drastically. The idea is to change it, so the consumers look forward to buying a car rather than thinking, "Oh man, this is just going to be a grind."
"We need to stop making it a grind," Natasha said. "They think it's a grind a lot of times because, quite frankly, it is."
Natasha is aware that it is necessary to consider even the way we do business ourselves, beyond the automotive transaction. She adds, "We don't like the wait. We like transparency, efficiency, and speed. So those are all the things that we've got to bring into this experience."
Natasha has accumulated vast experience in the industry. Her debut in this company was when she was a teenager and then she left at 23. She rejoined Bert Ogden in 2012, and in 2017, she was named Chief Executive Officer of the entire company.
Imagine, when she first came to work for Bert Ogden, she wanted to unseat the CEO of the company. Yes, the principal Bob Vackar! Now you know the kind of executive she is. She doesn't wait around; she gets things done. Even though the CEO job took several years, she owns it now.
Being at the top as a high-ranking officer is not like smelling roses every morning. The CEO position comes with enormous responsibility. She is in charge of about one thousand employees and works directly under Bob Vackar. If the name sounds familiar, you are right. He is a successful businessman and a philanthropist well known in South Texas.
Natasha understands that buying a vehicle is not a standard retail purchase. "This is a substantial purchase, [and] within that, the personal touch is so critical."
The transition and balance that she talked about are all the consumer needs in terms of digital retailing. "We want to make sure we're making that process seamless, comfortable, and transparent without forgetting the personal touch the consumer is asking for."
She added, "We're envisioning ourselves as a delivery and customer experience facility… taking all of the pain out of the online transaction and with a focus on absolute transparency."
The CBT host asked, "So today, if I log on to the Bert Ogden automotive group website, am I able to purchase a vehicle completely online and have it delivered to my home?"
"Yes, you can," Natasha replied.
The host asked: "What percentage of your business is currently done that way?"
"It's a small percentage in the single digits right now; this is a newer venture for us," Natasha explained. "It's something that's been in the works for about 18 months and live about four months."
The Bert Ogden Auto Group is using digital and social media to deliver its message. They cover all the fronts by having representatives in every area of the spectrum. They also use traditional media on a large scale. The group is well aware that a transition is in the process; however, digital may never be one hundred percent. That is why the combination of traditional, digital, and social media is, for now, an adequate formula to use.
Marsha Green, the V.P. of marketing, is the one that is continually cooking up media plans. She has been with the company for more than a quarter-century, so she knows her way around in marketing.
"We want to make sure that we make good on the promise given to our customers," Natasha said. "At this point, our customers can go to our website and fully purchase the vehicle online, including all of their ancillary selections."
She adds that the customer needs to sign several documents in the store, which are regulated by the state. "But that's where it becomes a customer and delivery experience very much," she said.
One thing Natasha knows for sure is that ultimately these consumers are going to buy from someone that they know and trust. "Especially as a new car owner, they're coming back to us for service, and we are going to be there with our personal touch," she said.
The Bert Ogden Auto dealerships have a good team in place. It also enjoys an ethical culture, a respected name in the marketplace, and that doesn't come easy. "We have a culture of trust and transparency among the staff. I firmly believe that customer experience is completely contingent on what our employees' experiences are." She continued, "If our employees have a solid culture, then, everything falls in place."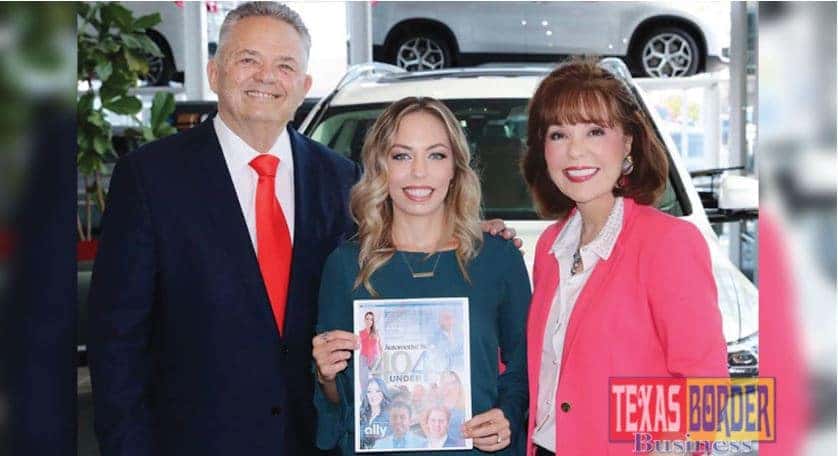 Bob Vackar, Natasha Del Barrio, and Janet Vackar Bob Vackar, Natasha Del Barrio, and Janet Vackar
She emphasized that communication and transparency are paramount. "It doesn't do us any good if that vision is held at the top and never communicated. l truly believe the more they understand where we're going, the why, and the opportunity, the more that they embrace it and own it as their own."
The host commented that many things threaten this kind of retail business, and among those are the rideshare companies, plus Tesla selling directly to consumers and bypassing the franchise system. Also, there are gas prices, interest rates, and the increasing price of vehicles.
He asked her, "what keeps you up at night?"
"All of those things are relevant, but they are not insurmountable, as long as we have the right mindset and the right people," Natasha answered. "The focus is to inform our staff about the industry threats, opportunities, and how efficiently we provide them with the tools to combat those threats."
Bert Ogden Auto Group is a well-established company with a record of forty years of excellence in selling fine automobiles in the Valley. Robert and Janet Vackar have worked tirelessly; they have also diligently cherry-picked the team that successfully helps them to run the company.
Natasha is a woman executive who is breaking every barrier in business. She is perseverant in making sure that the vision of the company is shared with the team so that the customer comes first, in quality, service, and automotive performance.
Natasha is making sure that customers come back the next time.
---
Originally written by Roberto Hugo Gonzalez and published by Texas Border Business newsprint edition April 2020. Link here.