About Us: Robert Vackar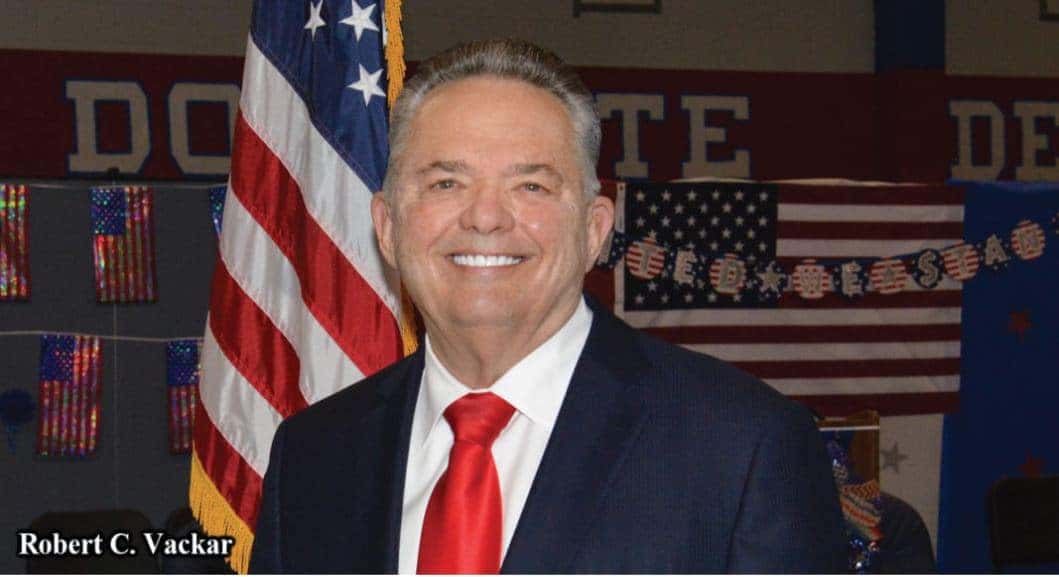 The automobile business is an exciting industry, extremely competitive and in constant evolution. Few auto dealers succeed on the scale the Bert Ogden Auto Group has and, in a parallel way, share their success with the communities which they do business in.
Robert C. Vackar is one of the principals at the Bert Ogden Auto Group, a conglomerate of automobile dealerships in the Rio Grande Valley. He has lived a life full of change and endured challenges, but today, through perseverance and visionary perspective, he enjoys the fruits of his hard work as he continues to grow the business.
Mr. Vackar has proven to be an extraordinary businessman, dedicating a good portion of his life to developing 22 dealerships and a host of other silent business ventures, but his passion is providing educational opportunities to future generations. As many know, he is deeply invested in the University of Texas Rio Grande Valley (UTRGV).
Robert and Janet Vackar At Their Farm
Bob and Janet Vackar at Their Farm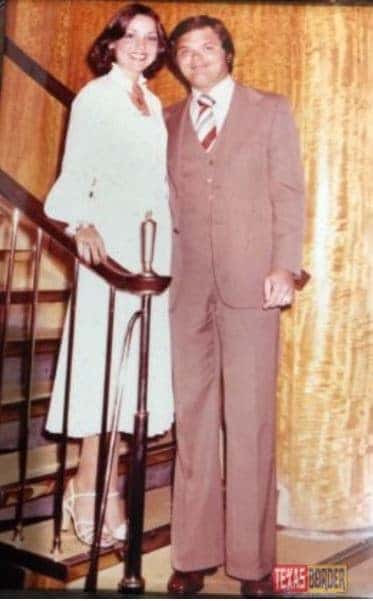 Janet and Bob Vackar in 1982
Above: Bob and Janet Vackar in 1982
Although the story of the $15 million dollars gifted to the University has been told, the impact continues to ring. Admiral William McRaven, former chancellor of The University of Texas System, said, "This gift will influence thousands of young men and women that will have changed and shaped the Valley forever." A dear friend, UTRGV President Dr. Guy Bailey, labeled this strategic donation a "game-changer." Mr. Vackar was then honored with the naming of the Robert C. Vackar College of Business and Entrepreneurship. It is no wonder this endeavor is his pride — his greatest legacy!
It is easy to see in moments like these how big-hearted and emblematic of the area Bob and Janet Vackar are. Their passion for the Valley is evident. But to know them privately and personally is the real treasure. There are few men like Mr. Vackar — full of love for his family, wise, resourceful, relentless, visionary, and generous in all areas of life. Simply put, he has a grip on those qualities that are unique to leaders who are focused on giving back to their communities. He imparts encouragement and wisdom to all who surround him in an effort to build up the next generation.
Mr. Vackar, better known by family and friends as Bob, has fought many battles, one in particular at the beginning of his life. He was born in Gonzalez, Texas to M.C. and Charlotte Vackar. "I was a premature baby, weighing less than three pounds," he told Texas Border Business in exclusivity. In those days, premature babies didn't survive. You'd never know it from his 6'2″ stature, but Bob went on to say, "My dad told me that I would fit in a shoebox, and my crib was the bottom drawer of a dresser. It had a light bulb hanging down over me because had jaundice… I guess that was my first real fight to survive."
Bob said that his greatest inspiration was his father, M.C. Vackar. "My father grew up with nothing. He became a bookkeeper at John F. Grant Lumber Company in Gonzalez, Texas. He worked very hard for everything he ever accomplished — it taught me a lot and affects my character still today."
"My father moved the family to Edinburg sometime in 1944-45. For several years, he managed the lumberyard until he acquired the John F. McKinney Lumberyard and Tobacco Farmer Supply in Edinburg." The new acquisition became the Vackar Lumber and Supply Company on March 14, 1957.
Being a business owner was a family commitment. His father asked him to work with him and leave high school after lunch every day. "My dad made me work hard, that didn't bother me. Hard work is the catalyst for success. My dad instilled that lesson in me early."

Bob's family, from left: dad M.C. Vackar, mom Charlotte Vackar, sister Susan Lewis Vackar as the UTPA Bronco Queen Above: Bob's family, from left: dad M.C. Vackar, mom Charlotte Vackar, sister Susan Lewis Vackar as the UTPA Bronco Queen
In high school, Bob fondly remembers the day that Principal Homer J. Morris called him in to discuss a career path. "Tony Guerrero, my coach, was also part of the conversation. These men felt I had potential and wanted to work with me during my senior year in high school. They encouraged me to go to college. That's probably the best advice I've ever received."
Bob had numerous jobs growing up: he worked for Tide Chemical Company in Edinburg, as a night clerk in a hotel, and even as a security guard. "I've worked for a CPA firm in Bryan/College Station," he said. "All these jobs helped to support me through the college years and unknowingly taught me lessons and values that contribute to my decision-making today."
Bob said, "When I went Off to Texas A&M in 1962, there were not a lot of job opportunities as it was still early in the Valley's non-agricultural development. That's changed. The economic drivers today are plentiful, and the UT System and the UT Medical School are producing great graduates and offering strong business, engineering, and doctoral programs." He praised South Texas College (STC) as well, "They have done a phenomenal job training young people." As a businessman and visionary, Bob feels strongly that education is the strength of the Valley and the reason for its healthy economic growth.
During his time at A&M, Bob recalls memories he shared with his roommate, Jimmy Harris, one of the founders of Compaq Computers and his time in the Corps of Cadets as transformative moments. After graduating in 1966 with his Bachelor of Business Administration (BBA) in Accounting, he went to work for Shell Oil Company while attending law school. However, in 1967, he was recruited by the US. Army. After completing basic training, he was accepted to Officers Candidate School in Fort Benning, Georgia. Prior to his deployment to Vietnam, Bob shared a barracks with Peter Holt, former chairman, CEO, and owner of the San Antonio Spurs. Memories of close proximity and relationships with people like Jimmy Harris and Peter Holt remind Bob of another life lesson taught by his father: that the character, caliber, and aspirations of people with whom you associate will have a paramount impact on your own trajectory in life.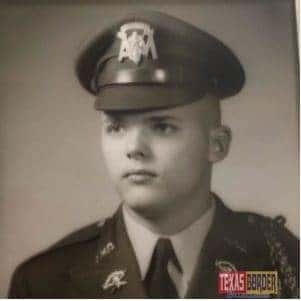 First Lieutenant Robert C. Vackar
First Lieutenant Robert C. Vackar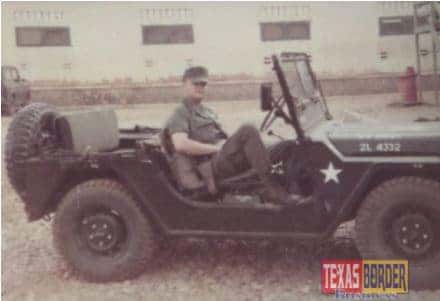 First Lieutenant Robert C. Vackar in a military jeep in Qui Nhon, Vietnam 1969
First Lieutenant Robert C. Vackar in a military Jeep in Qui Nhon, Vietnam, 1969
After completing his service, he returned to Shell Oil Company for another 12 years in Houston, Texas, working as a Financial Analyst in Exploration and Production. It was there that he met and married Janet Ogden. Bob says she brings so much energy and joy to life that he can't imagine what his life would have been without her.
In 1981, he went to work for GHR Energy as an Assistant Corporate Controller. The company was in the midst of bankruptcy and Bob found the life lessons and entrepreneurial spirit of his father, along with his accounting degree, to be a recipe for success in turning the company profitable.
In 1983, Bert Ogden, Janet's father, asked Bob to join him in running the dealership. At the time, there was only one, the Buick-Oldsmobile dealership in Edinburg. However, the two agreed on a long-term vision to grow the business. As a visionary man himself, Mr. Ogden saw what potential Bob held for the company's future. He graciously allowed Bob to take the lead, all the while remaining nearby in support.
A studious and self-reliant learner, Bob got to work. "I called General Motors, got the books. I learned the accounting of the company. I learned to sell cars." He said, "At that time, we didn't have a financial manager or a used car manager; I had to learn many functions very quickly."
Bob continued, "Honoring his agreement with me to grow the business, we acquired Randolph Chevrolet Mission in 1987, closely followed by the acquisition of the McAllen BMW Nissan store in 1990." Mr. Ogden and Bob became partners in both stores. It would appear their visionary journey had begun, but a big challenge was just around the corner. "It was the kind that breaks you, no matter how brave you are. It brings you to your knees."
The challenge is not a challenge, but a horrible nightmare that fills your eyes with tears. It makes you look up at the sky to ask, why?
A Tragedy
Bob tells the event as if it had been just yesterday. His voice breaks as he says, "The highway patrol rang the doorbell at one o'clock in the morning." The news conveyed that Bert and Dorothy Ogden, Janet's parents, had perished in a car accident en route to Port Isabel.
You got the feeling that everything was falling apart in front of his eyes. His wife, devastated with uncontrollable pain, and his little daughter, Kristin, feeling everything. It was the most tragic and painful dawn ever lived by the Vackar family.
Bob and Janet and their family survived that painful loss with the support of God and the community. Yet despite the years, remembering still brings the Vackars such sadness; Janet's tears flow again. However, they thank God fervently for their daughter Kristin, their son-in-law Will, and their four grandchildren. They are the joy of their hearts and who they cherish daily, for they know all too well the brevity of life.
Bob said, "It was a tragic night. Janet was devastated, our daughter was devastated, I was devastated."
In the split second that the accident happened, another challenge started brewing. As in every industry, the car business has its legal rules. Bob explained that a contract between the dealer principal and the manufacturer ends with a death. What it means is that your franchise is no longer yours and everything is on the line.
He recounts that the funeral took place on a Thursday. By Friday, all contracts with the manufacturer were terminated by default. Fortunately, a 90-day grace period was established due to Bob's quick learning and recent operational success, giving the Vackars time to put everything together.
The loss of Bert and Dorothy Ogden carried such a significant weight to bend or even break any human being. There is no doubt that their faith in God and His mercy carried them through this.
Forging Ahead
Bob has always said that he is fortunate to have Janet, as well as his sister-in-law Kathy – he calls them both excellent business partners. They all worked together to formulate a plan following the tragedy. The key to these meetings was the communication between them. They listened to each other clearly, even under the painful circumstances.
This difficult period taught Bob not only the value of planning for the future and growth that he envisions, but the importance of planning for all things unseen and unexpected. As a lesson learned, Bob has ensured his family will not endure the same business circumstance he and Janet faced. Today, there is a succession plan by way of a holding company. "I'm planning that at the time of my death, the transition is going to be fairly easy. I have been working very hard for the last years, and that's been a monumental task," he said.
"Today," Bob said, "we have 22 dealerships across the Valley. Over the next two to three years, we're looking at three new dealerships. And if I take into consideration some of the used car operations, we're going to probably develop six more locations over the next three to four years."
Just recently, Bob and Janet were named Border Texan of the Year. At that event, Marsha Green, Director of Marketing, said that there are only three things that mean peace for Bob: his wife, Janet; and his daughter, Kristin; and the American flag.
"Bob is the most dedicated patriot, a devoted military guy; he bleeds red, white, and blue. That's why all the dealerships fly the tallest and the largest flags." She pointed out that the last one they erected reached 150 feet into the sky and it needed approval from the city.
There is much more to Bob; for now, I will end with his words of wisdom:
"Look at the great possibilities of life. Remember that you harness the greatness that lies inside of you to affect change in the world. Don't just have dreams, turn them into truth."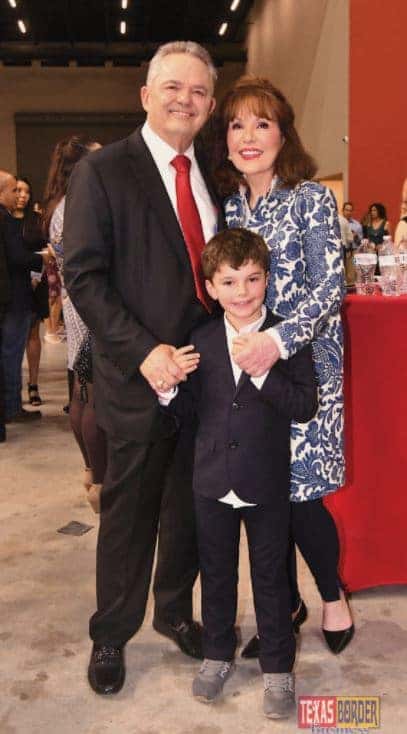 Robert and Janet Vackar with Walt, one of four grandchildren. Photo taken during the Grand Opening Reception of the Bert Ogden Arena on August 25, 2018. Photo by Roberto Gonzalez.
Robert and Janet Vackar with Walt, one of four grandchildren. Photo taken during the Grand Opening Reception of the Bert Ogden Arena on August 25, 2018. Photo by Roberto Gonzalez.
---
Originally written by Roberto Hugo Gonzalez and published by Texas Border Business newsprint edition December 2019. Link here.